Get in contact. Join our journey!
We know that breasts come in all shapes and sizes. We also know that around 38% of women have uneven breasts. So, how come that the underwear industry still seems to mostly cater for symmetrical breasts? We think that's unacceptable.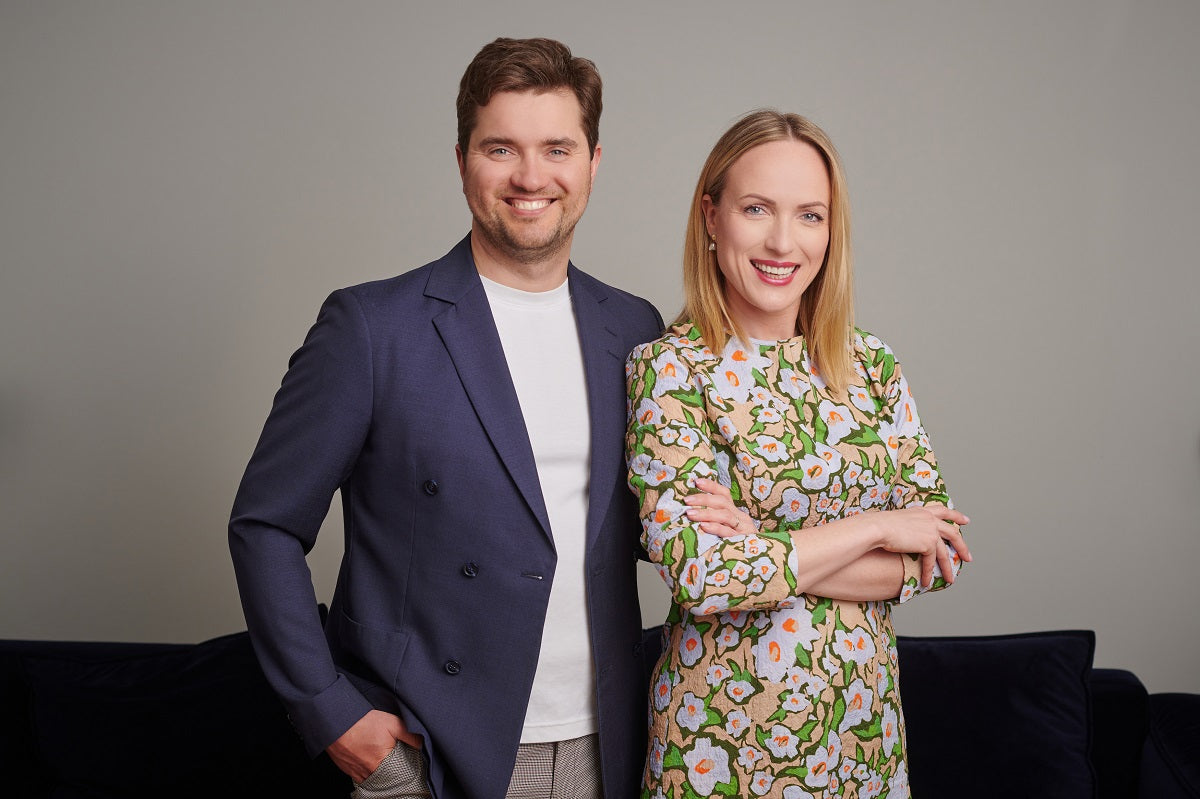 Symmetrista
Merlin Seeman Co-Founder
Aleksander Seeman Co-Founder
Contact us: contact@symmetrista.com
As a family-operated brand, we want to assure you that your inquiry is important to us. We are  dedicated to providing you with the support you need, and we genuinely look forward to connecting with you. Please don't hesitate to reach out, as we are here to provide personalized assistance and make your experience with us as comforting and delightful as possible.
Do you have any questions?

E-mail us if you need help with filling in the SIZE CALCULATOR, or have any further questions about size, and when the styles are available in stock online.
Are there any inquiries you would like to make?
Our FAQ list below contains responses to the most commonly asked questions, which many customers have found helpful in finding solutions. If you require further assistance, please don't hesitate to reach out.
Contact us: contact@symmetrista.com
FAQ
How does the Symmetrista bra enable symmetry for uneven breasts?

The Symmetrista Signature bra is designed specifically for women with uneven breasts. The individually-tailored cups provide customised support and coverage for each breast, accommodating the difference in size. 

At the same time, the built-in padding assures extra volume and shape for your smaller breast so that it appears even with your larger breast under clothing. This means the Signature bra creates an appearance of symmetry without the need for separate inserts.
Do you offer bras for different degrees of asymmetry?

Yes, our Signature bra is designed to accommodate varying degrees of breast asymmetry. When ordering, you can choose the difference in cup sizes (e.g., L2, R2, L3, R3) to ensure a tailored fit for your unique needs.
How do I choose the right size for my Symmetrista bra?

You can use our online size calculator to determine your correct size. Once you do that, the right size will automatically be displayed for you on the Signature bra page. 

Alternatively, you can select the right bra size yourself. You only need to choose the correct bra band and the difference in cup sizes. This is because our bras come in sizes ranging from 70C - 100A, with adjustments for asymmetry from L2 to L3 and from R2 to R3.

For example, if your bra size is 70C and your left breast is two sizes larger than your right breast, choose bra size 70C and also select L2. If you need further assistance with sizing, please contact us at contact@symmetrista.com
How do I measure my breasts in order to know my accurate size?

It's easy! But first, you'll need a measuring tape. Secondly, it'll be much easier if you carry out the measurement in front of a mirror. Now head to our visual guide to get started. 
Can I wear a Symmetrista bra every day?

Yes, our Signature bra is designed to be comfortable and durable for everyday wear. The high-quality materials and construction ensure that the bra maintains its shape and support even with regular wear and washing.
How do I care for my Symmetrista bra?

To ensure optimum longevity and performance, please follow these care instructions: 

Hand wash in cold water with a mild detergent or machine wash on the delicate cycle (in a lingerie bag)
Hang to dry away from direct sunlight or heat sources
Do not iron
What is your shipping and return policy?

We offer DHL door-to-door delivery with the following estimated shipping times:

UK delivery: 2-5 business days
EU delivery: 1-5 business days (may vary based on your location and courier)

For any questions about shipping, contact us at contact@symmetrista.com. We are committed to providing the best experience from start to finish.
Can I get a refund or exchange for a different size?

If you are not completely satisfied with your purchase, we accept returns within 14 days of delivery. We then make refund to the same bank account from where the purchase was made. Please note, the refund duration is about 5 working days.

As we, unfortunately, do not offer exchanges on our online shop, you must place a new order via www.symmetrista.com if you want a different size/collection/style.
Do you deliver outside the EU/UK?

Yes, although it's currently only to the US, Canada, Norway and Switzerland. However, we are already working on expanding our delivery range. Please subscribe to our email newsletter or follow us on social media to stay updated on this.

For deliveries outside the EU, customs duties might be added. The buyer is responsible for the customs costs.
Are Symmetrista bras environmentally friendly?

Symmetrista is dedicated to protecting the environment through a sustainable supply chain. Our materials are ethically sourced and transported, and as we grow, we aim to minimise our environmental footprint by adopting eco-friendly practices such as recycling our old products and partnering with organisations that help protect the planet. By choosing Symmetrista, you're investing in a greener future for all.
Do you plan to expand your product line in the future?

Yes! While we currently offer only one bra, the Signature bra, at the moment, we are working on additional colors (i.eg. nude, white and red) and collections (i.eg. seductive and swimwear). We are committed to providing inclusive, high-quality lingerie for women with uneven breasts. Stay tuned and sign up for the newsletter!
How can I stay updated on Symmetrista news and product launches?

You can subscribe to our email newsletter or follow us on social media to stay updated on the latest news, product launches, and promotions.
Who is behind Symmetrista?

At Symmetrista, we take great pride in being a family-owned and operated business. Our founder, Merlin, started this venture with a burning desire to provide women with uneven breasts a bra that could mask asymmetry, enhance their silhouette evenly, and boost their confidence. Having struggled her entire life to find a bra that fit her uneven breasts, she later discovered that she wasn't alone in this struggle. In fact, a survey conducted by Symmetrista in Europe in the Spring of 2021 revealed that up to 38% of all women have significant degrees of breast asymmetry.

Determined to empower women like herself, Merlin took on the challenge of designing the perfect breast asymmetry bra - the first of its kind. With the unwavering support of her husband, she worked tirelessly for years, driven by passion and a desire to make a difference. Today, as co-founders, this couple is redefining inclusiveness in the lingerie space and ensuring that no woman feels left out. So when you choose Symmetrista, you can rest assured that you're not just buying a bra - you are supporting a family-owned business that's committed to empowering women and promoting body positivity.
I have more questions. How can I contact Symmetrista personally?

For any additional questions or concerns, please feel free to reach out to us at contact@symmetrista.com, and we'll respond as soon as possible. We are committed to providing the best experience from start to finish and are always happy to help.
 Subscribe to our newsletter
We are an upbeat company on a mission to offer a solution for women with asymmetrical breasts with the aim to make every woman feel comfortable and confident.
Enter your e-mail so you wouldn't miss our special offers and product updates.